Diary

The diary is just what is sounds like - a diary. Notes and thoughts about particular events and everyday life is written down, mainly as a way to notify friends and family in Sweden about what is happening here in Japan.

November 27, 2005 - Sunday

Woke up to the worst day in my life. Have to leave Japan today. My home. Two years have passed so fast. So many new friends. So many things I have never dreamed of doing. Thank you so much all new friends that have made it possible to experience so much in such a short time. Especially you, Chie. Thank you so much.

I will meet you soon again. I am fully determined to come back to Japan.

Chie drove me to the airport. We had breakfast in the car on the way. When I checked in I upgraded to business class by using my Star Alliance milage points. That allowed me more weight and best of all better seats.

Then Chie and I waited. Talking. Hoping to see Brad Pitt and Angelina Joulie (is that her name?). They were coming to Tokyo for promoting the Mr. and Mrs. Smiths movie. We did not spot them.

Then I had to go. It was only 10 minutes before starting boarding. But almost no people so it was fast. i had to leave my alien registration card where they check the passports. Then I exchanged money. Japanese for Swedish. Not so good. you loose some zeroes.

When I got to the gate they had just started the boarding for business class passengers. So I just passed all the poor people in the economy class and found my seat.

After takeoff I started my PowerBook and tried to conenct to the Internet. Yep, you read correctley. Conncet to the Internet. SAS is the first, and maybe still the only, airline company that provides Internet access for long flights.

So I actually write and update this diary from somewhere over Siberia. It's dark outside so I cannot see exactly where I am. And even if I saw it I wouldn't know.

But the cool thing is that I have had a chat with Chie over iChat and sent some e-mail to Patrik back and forht. Makes the time fly... Hehehehe. Sorry for the bad joke.

In several hours I will land at Arlanda airport outside of Stockholm. It is almost on the day two years since I left. That time my landlord at the time gave me a ride. This time I will take the train. But not before I meet with Patrik. That was what we decided over e-mail just a few minutes ago.

So right now I will upload the last diary entrance for my stay in Japan this time. This diary will over the next couple of weeks or so transform. Stay tuned to see into what it transform.

Again I want to thank all of my friends in Japan for making these two years so happy and full of new experiences. Please let us continue to have fun when I come back... Soon...

November 26, 2005 - Saturday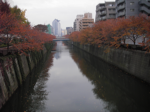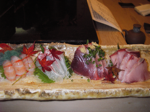 Last day. My flight is tomorrow. Not so fun. But I will be back.
In the morning Chie and I went to Roppongi Hills and the Virgin Cinema there. We had made reservations for the new Harry Potter move, The Goblet of Fire. On the way there we had breakfast at Doutor.
The movie was quite good. One of the better Harry Potter movies I think. In some parts funny. Many kids laughed a lot, including Chie and me. I think we were the oldest kids there.
In the afternoon Chie and I went to Ebisu. She met her mother and I went to Vodafone to end my cellular account. Cost me 4200 JPY to do that because I ended it early. At least that is what I think it was. The girl I talked to could not speak any English.
Then I went to Kinko's to print some documents I had to send to Professor Kimura's secreatry. I forgot to sign them before I left. Something needed for the JSPS, the organization that payed for my two years here in Japan.
But then it was time for Sushi at Kiichi. Kiichi is a great sushi restaurant. Traditional in the sense that there are no prices marked on the different fishes. you just eat and then you pay with a big smile on your face. And so we did. Actually it was Chie who payed with a big smile on her face. Thank you Chie, for everything.
Besides having a great dinner it was fun to see Chie's mother again. We talked and ate great sushi until Chie's mother had to catch her train to get home. Chie and I walked home just a little bit later. After finishing our dinner with Miso-shiro (miso soup).
November 25, 2005 - Friday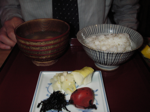 Stayed home today to pack everything and to organize the storage room I rent. I will keep the room and keep a lot of stuff there. For my return.
The organization of the room took about an hour. Then I went back home and started packing. And thinking about the dinner tonight. At Shiraishi.
Then I got an e-mail from Professor Kimura. One of his friends work at IBM Japan and had time to see me at 6:30 pm the same day. no Shiraishi then. Instead business suit and business meeting. It was kind of a job interview. But in Japan it is differnet from in Europe.
In Japan it is a long process of finding the right person and then to find the right position for that person in the company. Today was a meeting where Mr. Takeuchi talked about IBM and job opportunites at IBM. And asked me about myself.
The meeting took and hour and ended with Mr. Takeuchi telling me that he would look for job opportunities at IBM and also to send it to some of his colleagues at, for instance, Honda. I just have to wait and see what happens.
While I was at the meeting Chie went to Ginza. We met again at Ginza station and went to Ebisu. We were very lucky because Shiraishi still had two seats available for us. So, afterall, we could have a dinner at Shiraishi. And what a dinner. Yummy!
November 24, 2005 - Thursday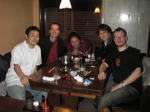 Went to the office to have a meeting with Professor Kimura in the morning. 5 minutes before the meeting he told me he was late and could not make it until an hour later. But then we had our meeting.
Mainly it was about a paper we will write after I go to Sweden. I had already made a synopsis and today he agreed with it. Then we made clear who is writing what.
My aim was to leave the office for good before lunch time but I had to talk with Miyaoko-san too. He will take over from now. Because of that I was late and stayed for lunch as well.
After lunch I went back home, after stopping at Ginza to buy a Christmas gift for Chie. Last time we were here she had seen a pair of indoor boots in pink lamb furr. They looked really warm and cosy. And she liked them very much. So today i went back there and bought them along with another surprise.
At home I continued packing and working. Until Chie came back home. Then we went to Yasaka for dinner.
We had made plans to meet with Uwe and Jochen from Germany there. They both attended the Japanese class with me. And this was kind of a bye for now dinner.
We enjoyed the delicsious food of Yasaka while talking about everything and nothing in particular. At 11 pm they had to leave for their trains home. While Chie and I walked back. Last dinner at Yasaka for this time. I said goodbye to the owner. And promised to be back soon.
November 23, 2005 - Wednesday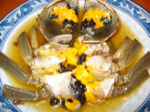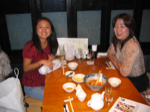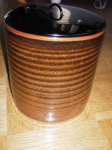 Woke up to a national holiday today. Which meant no office. Instead Chie and I had udon nabe for breakfast at home.
After breakfast we went to Shimbashi to buy new contact lenses for Chie. While she did that I walked around looking at shops and restaurants in the area.
Then we walked from Shimbashi area to Ginza. There we did some Christmas shopping and Chie got her shoes back from the shoemaker. She was so disapointed because her Chanel shoes had lost all her Chanel logotypes on the soles. One pair of shoes had only half a logotype.
Ginza was followed by going to Kankyoshuten, a chinese restaurant. Chie had made a reservation to have Shanghai crab. Right now is the season.
The crab was qite small but expensive. And it tasted more like a shrimp than a crab. Mina-san enjoyed it as well. But Mario (an Italian guy that resently joined Kimura lab) could not make it.
Chie and Mina-san also had Chinese alcohol which was brewed in 1989. 1000 JPY for a glass of 150 ml, or about 70 SEK. Phew. Very expensive I think. At least compared to Jasmin tea, which was what I was drinking.
Before the dinner was over Mina-sensei gave me a farewell gift. It was a surpise. It was a mizusashi. It's a thing for the tea ceremnoy in which you have water. you can see it on one of the pictures to the right.
After the dinner it we went back home. We took the Mita line back to Meguro and walked from the Meguro station. It was a nice walk. But it feels so strange to have to leave Tokyo and Japan in just a few days.
November 22, 2005 - Tuesday
No office today. Instead I worked at home. Mixing office work with packing. Kind of cleaned out the wardrobe, but Chie did not agree that it was cleaned out. I kind of have to agree with her.
I also had time to burn some photo CDs from our last trip to San Francisco. And i made some surprise DVD from those photos too. I hope Raider Nation Japan will enjoy them.
When Chie came back from he office we went to the gym together. First time in a while since first Chie had a cold and then I have had a cold. But it felt great doing some excercises again.
November 21, 2005 - Monday
Monday. Had to go to the office. Had my last presentation. Final report of my results from these two years. It went fine.
At home Chie and I had mabu-nasu for dinner. Left over from the Saturday night party. Yummy.